See How the Ford F-350 Super Duty Compares to the Heavy-Duty Competition
Whether you're a contractor in New Bedford, or you own a landscaping business in Taunton, when you need a powerful and capable truck to help you with your workday tasks, it's hard to compete with the Ford F-350 we have available at First Ford in Fall River.
The Ford F-350 is the largest model in the beloved and legendary Ford F-Series lineup. It's the Super Duty big brother to both the F-150 and the F-250, and it's capable of handling all of your big, and little, tasks.
A highly customizable pickup, the F-350 gives drivers from Newport to Tiverton a wide variety of possibilities when it comes to configuration. Not only does the F-350 have a variety of trim level and engine combinations, it also comes in an assortment of cab styles, including a two-door regular cab, an extended SuperCab with smaller backseat, and a four-door crew cab with a full-sized backseat.
Versatile and capable, yes. But at First Ford we understand that the Ford-350 doesn't stand alone in the heavy-duty pickup truck arena. If you're interested in this impressive workhorse, and other heavy-duty models from competing brand names are also vying for your attention, we can help.
Here, we've pit the Ford-350 against two of its main pickup truck competitors, the Ram 3500 and the Chevy Silverado 3500. Take a look at this side-by-side information, then make your way from your home in Westport, MA to our showroom in Fall River, to experience the power and strength of a Ford truck in person.
The Ford F-350 Super Duty vs. the Ram 3500
Power and utility. Both of these pickup trucks have gas and diesel engine options for drivers to consider. But the Ford F-350 has three, where the Ram 3500 has two. The F-350 has two gas-powered V8 engines and a powerhouse 1,050-pound-feet of torque, turbocharged diesel V8. Neither of the Ram options can compete with this level of oomph. There is a higher output version of the Ram diesel engine available that you can request special, but even that doesn't deliver the same power as the Ford engines.
Interior design and comfort. The Ford F-350 is a more comfortable ride for you and your passengers. For example, the inside of the crew cab Ford has three inches of extra front seat legroom and two inches of extra rear seat legroom than the Ram.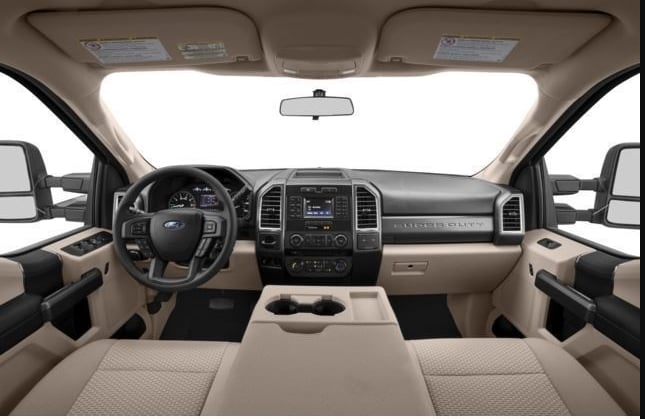 Payload capacity. The Ford F-350 can help you haul heavier loads in the bed than the Ram as well. The Ram 3500 has a passenger / cargo payload capacity around 4,000 pounds, while the Ford F-350 tops out at more than 6,700 pounds for payload.
Fuel capacity. You can go further on a tank of gas with the Ford F-350 than the Ram 3500. The Ford has a fuel tank that holds 48 gallons, while the Ram tank holds just 32 gallons, which means more stops at the gas station for you in the long run.
The Ford F-350 Super Duty vs. the Chevy Silverado 3500 HD
Engine options and output. Ford knows drivers like choices, and the F-350 delivers them. There are three great engines available here, depending on your preference and your need for power. Comparatively, the heavy-duty Chevy Silverado 3500 has just two engines available for your ride, a gas-powered V8 or a diesel V8. Not only does the F-350 have two gas V8 options and a turbocharged diesel V8, it also presents you with more power from these engines. For example, the range-topping F-350 diesel delivers an astounding 476 horsepower with 1,060 pound-feet of torque, for maximum capability, while the Silverado 3500 HD diesel has just 445 horsepower with 910 pound-feet of torque.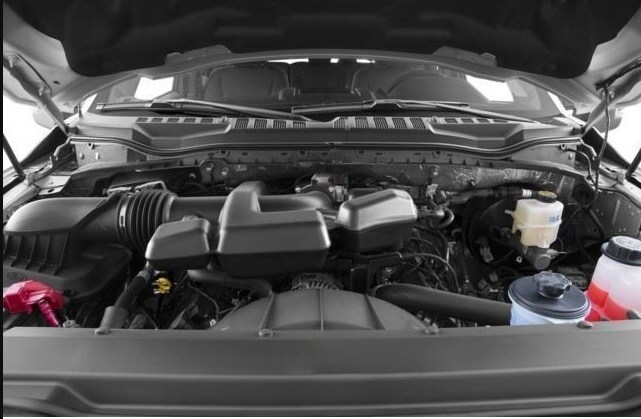 Towing capacity. The extra strength from its engines means extra oomph for you when it really counts. As is, without any added features for heavy-duty trailering, the F-350 easily handles more than 21,000 pounds for towing. Add on special towing amenities, and that number increases dramatically. The Silverado 3500 HD, on the other hand, tops out with a 20,000-pound towing capacity.
Interior design and passenger comfort. The Ford F-350 interior cabin is completely modern and updated, with the latest amenities for technology throughout. The Silverado 3500 HD cabin, meanwhile, could use a modern refresh and update. Plus, the Ford truck is both taller and wider than the Silverado 3500, which means extra space inside the cabin for you and your passengers. In fact, comparing the crew cab style for both these trucks demonstrates that the Ford is the more-comfortable pickup, because it as more legroom for your backseat passengers and more elbow room and shoulder room in the front and backseats.
Safety features. Both trucks start Somerset, MA drivers off with an array of standard safety features, with more available as add-ons or on upper trims. But the Chevy Silverado 3500 HD is lacking in some of the innovative safety features drivers look for today, such as adaptive cruise control, which isn't available.
Meet and Test Drive a New Ford F-350 Super Duty in Person
The best way to grasp all the ways the Ford F-350 outperforms and out maneuvers the competition, is with a test drive. When you're ready to experience the true power and capability of this legendary pickup truck, make your way to see our team on William Canning Boulevard in nearby Fall River.